Allergy or cold? How to tell?
The symptoms of the common cold are the result of your immune system and body's attempts to fight off a virus. With hay fever (or allergic rhinitis), the symptoms are the result of an overreaction by the body to minuscule substances (called "allergens") found in the air we breathe, e.g., ragweed, pollen. It's easy to confuse the symptoms of hay fever (a form of allergy) and those of the common cold, as they are sometimes similar: runny nose, nasal congestion, sneezing and coughing.
Allergic rhinitis
Allergic rhinitis is a common condition that involves inflammation of the nasal mucous membranes, sinuses and eyes. It is triggered by an overreaction of the immune system to an otherwise harmless substance, or allergen.. This triggers a defense response from the immune system: it releases chemicals, such as histamine and leukotrienes, causing the allergy symptoms.
Symptoms of allergic rhinitis
Most common symptoms of rhinitis are the following:
Itching in the nose, palate or throat
Runny nose or nasal congestion
Sneezing (Serial)
Red, itchy or watery eyes.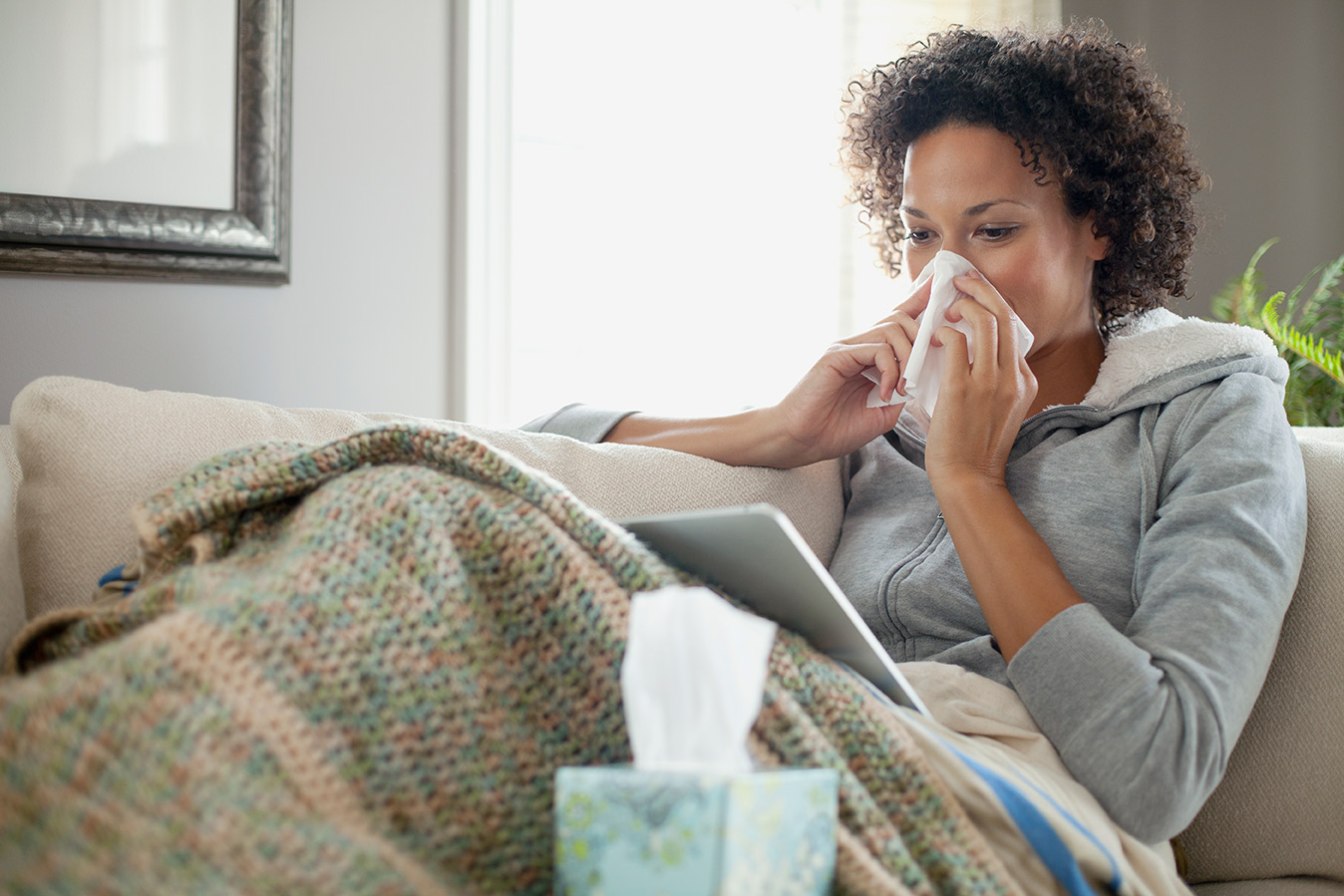 The common cold
The "Common cold" is a viral infection of the upper respiratory tract – namely, the nose and the throat. Over 100 viruses can lead to the cold, but it's commonly caused by the highly contagious rhinovirus. This virus is prevalent all year long so you can catch a cold at any time.
Symptoms of a cold
The symptoms of a cold are the following and can last up to 7 days:
Runny nose or nasal congestion
Occasional muscle pain
Sneezing
Fatigue
Throat Ache
Dry or wet cough
Common cold or hay fever?
It's easy to confuse the symptoms of hay fever (a form of allergy) and those of the common cold, as they share many similarities.
| | Hay Fever | Cold |
| --- | --- | --- |
| Nasal discharge (mucus secretion) | Very liquid (transparent), may sometimes thicken | Thick (white, yellowish, or greenish) |
| Nasal congestion | Both nostrils | One or both nostrils |
| Sneezing | Often (serial) | Occasionally |
| Itchiness | In the nose or throat | No itchiness |
| Red, watery, or itchy eyes | Often | No eye symptoms |
| Cough | Sometimes, especially if the person is asthmatic | Often |
Different types of allergies
Seasonal allergies: When the allergen that causes allergic rhinitis is only present at a specific time of the year, the symptoms will appear at the same time every year. For example, in the spring for people who are allergic to tree pollen or in the fall for those with a ragweed allergy.
Perennial allergies: When the allergen is present year-round in the environment, symptoms can occur all year long. Dust mites, dust and molds are examples of allergens that can cause allergic rhinitis throughout the year.
Skin testing for allergies, to help you identify triggers
If you suffer from hay fever, it is important to minimize your exposure to the allergen that triggers your symptoms. However, to do that, you need to know your enemy. Otherwise your efforts may be in vain. An allergy test will identify which allergens you react to. Then you can better target ways to avoid them and to anticipate the periods when they are likely to be present.
When in doubt, ask your pharmacist
If you're not sure what's causing your symptoms, talk to your pharmacist. They can help determine whether you're suffering from allergic rhinitis or a common cold, and may refer you to a doctor, if necessary. They may also suggest certain medications or other measures to relieve your symptoms.
The information contained herein is provided for informational purposes only and is not intended to provide complete information on the subject matter or to replace the advice of a health professional. This information does not constitute medical consultation, diagnosis or opinion and should not be interpreted as such. Please consult your health care provider if you have any questions about your health, medications or treatment.