Zika Virus
Zika virus is a mosquito-borne illness that is especially of concern to pregnant women or women of childbearing potential due to the association with birth defects such as Guillain-Barré syndrome and microcephaly (abnormally small heads).
Transmission of the virus
Zika virus is carried by the same type of mosquito that transmits dengue, chikungunya and yellow fever. It may also be transmitted through sexual contact with an infected person, blood transfusion, and from a mother to a newborn. The virus has been found in breast milk, but it is unknown if the virus can be transmitted via breastfeeding.
Zika virus is present in Africa, parts of Asia, in the southwestern Pacific Ocean, South America, parts of the Caribbean and in parts of the southern United States. For the latest updates on countries affected by Zika virus, visit the World Health Organization's website.
Prevention
As of 2018, there is currently no vaccine or medication that protects against getting a Zika virus infection. Travellers visiting affected areas should protect themselves against mosquito bites using insect repellent, protective clothing, mosquito nets over beds, screened doors and windows. All returning travellers from high-risk Zika-affected areas should continue to use insect repellent for at least three weeks, and practice safe sex with condoms or abstain from sexual activity for six months or more upon returning.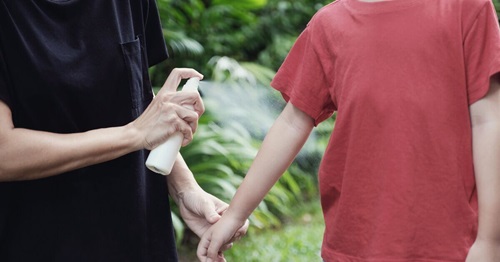 Symptoms
Only 20 to 25% of people infected with Zika virus are believed to develop symptoms.
These include:
Low-grade fever
Joint pain
Red eyes
Rash
Generalized symptoms such as muscle pain, physical weakness, lack of energy and headaches.
The incubation period of Zika virus ranges from 3 to 12 days. The disease's symptoms are usually mild and last for 2 to 7 days. Most people recover fully without severe complications, hospitalization rates are low and death is rare. Zika virus infection may go unrecognized or be misdiagnosed as dengue, yellow fever, chikungunya or other viral infections causing fever and rash.
If you plan to travel where the Zika virus is present, ask your pharmacist to help choose an effective insect repellent. Your pharmacist will also be able to discuss prevention of other diseases you may be exposed to during your travel and review your medications before you depart.
The information contained herein is provided for informational purposes only and is not intended to provide complete information on the subject matter or to replace the advice of a health professional. This information does not constitute medical consultation, diagnosis or opinion and should not be interpreted as such. Please consult your health care provider if you have any questions about your health, medications or treatment.