5 Ways to Protect Your Family Against the Flu
Finally, the kids are back at school. They learn, have fun, but also spread germs with their friends. It is never too early to think about how to protect your family from illnesses like the flu. Here are 5 easy ways to do just that :
Get vaccinated agains the flu
Wash your hands
Avoid touching your face
Watch where you point that sneeze
Reduce close contact
1. Get Vaccinated Against the Flu
The flu virus changes every year, and so does the flu vaccine. It is safe and effective;
getting the vaccine
assists with protecting you if you get exposed to the virus, helps prevent you from being very sick, and helps prevents you from passing on the virus to your family.
The flu vaccine is available as a shot and a nasal spray! Children especially may prefer the nose spray option so they don't get a needle.
It is important to get vaccinated early because there is a two-week delay between getting the flu vaccine and your body being protected.
2. Wash Your Hands
The flu virus is spread mainly by small water droplets when people cough, sneeze or talk. Since your hands come in contact with many items touched by other people, such as door handles, they are most likely to come into contact with the virus. Washing your hands thoroughly with soap and water for at least 20 seconds will remove most germs. Younger children should be supervised when washing their hands to make sure they are cleaning thoroughly. If you're on-the-go, you can also use an alcohol-based hand sanitizer.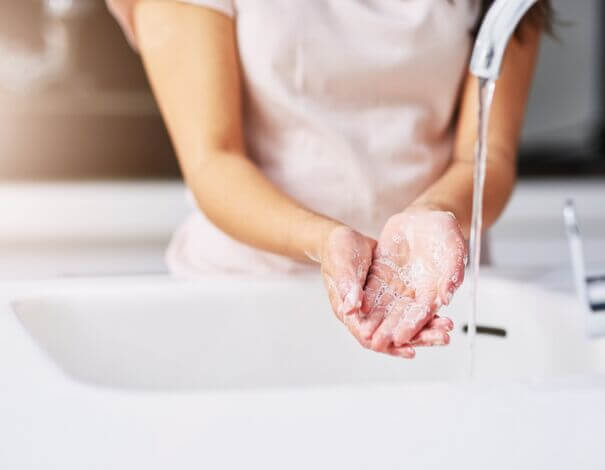 3. Avoid Touching Your Face
As you cannot wash your hands all day long, reducing the number of times you touch your eyes, nose and mouth can reduce the likelihood of getting the flu virus.

The tiny droplets of virus can live up to 48 hours on most surfaces. So everyday objects, such as phones, TV remotes, doorknobs or computer keyboards can become covered with the virus. One way to reduce this is to clean and disinfect surfaces you touch the most often.
4. Watch Where You Point That Sneeze
During flu season a good habit is to sneeze into your inner elbow instead of your hand. If you catch your sneeze in a tissue, that's great too, just throw it away immediately after.
5. Reduce Close Contact
Be wary of close talkers! When a person sneezes, speaks, or uses a tissue, the virus is hanging around. By keeping a distance when talking, or minimizing contact when you are sick, you can protect against passing on or getting the virus. People who get sick should reduce direct contact with others to avoid spreading the virus.

For more information about protecting your family, visit a pharmacist who will be able to give you more details about the flu vaccine, tips on how to prevent transmission, and treatment options to help you feel better.
The information contained herein is provided for informational purposes only and is not intended to provide complete information on the subject matter or to replace the advice of a health professional. This information does not constitute medical consultation, diagnosis or opinion and should not be interpreted as such. Please consult your health care provider if you have any questions about your health, medications or treatment.