Shingles: symptoms, treatment, and prevention
Shingles is a viral infection that causes a painful rash. While it's most common in people over the age of 50, it can occur at any age. Recent studies show that the lifetime risk of shingles can be as high as 30% in the general population. It's estimated that there are 130,000 new cases of shingles in Canada each year.
Although there is no cure for shingles, it can be prevented and treated by a healthcare professional. Read on to learn about how to recognize, treat and prevent shingles.
WHAT IS SHINGLES?
Shingles is a condition caused by the varicella-zoster virus, the same virus that causes chickenpox. The immune system never completely gets rid of the virus after we have recovered from chickenpox. Scientists think that some virus particles escape from the original chickenpox blisters and move into the nervous system, where they lay dormant. When the virus reactivates years later, it moves along sensory nerve fibres to the skin where it multiplies, causing a painful rash.
Shingles develops in three stages: prodrome, acute disease, and healing.
In the prodrome stage, which may precede the appearance of a rash by a few days, people often experience pain, tingling, itching or sensitivity to touch in the area where the rash will eventually appear. Some people also have fever, headache, sensitivity to light and fatigue. Sometimes these prodromal symptoms go unnoticed.
During the acute illness, the rash typically forms a stripe of blisters that stays within one side of the body. Lesions are usually found on the trunk or face, but they can occur anywhere on the body. The blisters, also called vesicles, are small, red, and filled with fluid. The acute illness usually lasts 10 to 14 days.
Then comes the healing stage. The vesicles dry, scab over and heal over a period of three to five weeks. For some people, pain can last for weeks after the rash has healed.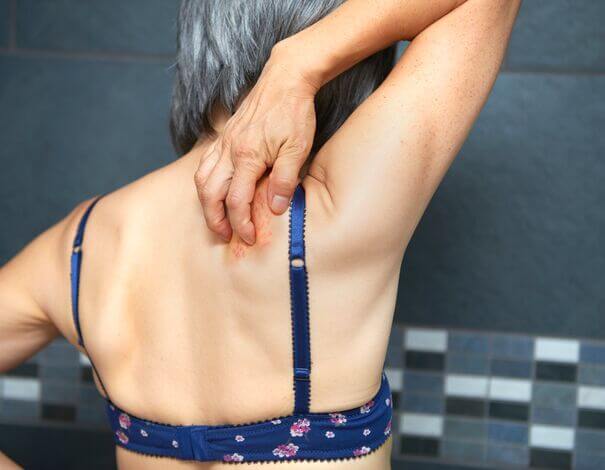 HOW DO YOU GET SHINGLES?
For a disease that is so common, shingles is still largely misunderstood. Not everyone who's had chickenpox will have shingles. The reason why shingles develops in some people but not others is still unclear, but it may be linked to the fact that the immune system progressively becomes weaker as we age.
Shingles risk factors include:
having a weakened immune system, due to age or disease
undergoing emotional stress,
undergoing cancer treatments, HIV/AIDS treatment, or major surgery,
taking certain medications following organ transplant or long-term use of steroids like prednisone.
Most people only get shingles once, but it is possible to have it several times.
IS SHINGLES CONTAGIOUS?
Shingles is not generally contagious, but a person with active shingles can spread the virus to others who have never had chickenpox. The virus can be spread through direct contact with the fluid in the blisters. If someone becomes infected this way, the person will develop chickenpox, not shingles. They could then develop shingles later in life.
To reduce the risk of spreading the virus to people who are not immune to chickenpox, it's important to cover the blisters until they scab over and to wash your hands frequently.
HOW IS SHINGLES TREATED?
While there is no cure for shingles, treatment with antivirals is recommended to speed the healing process and reduce the risk of complications. Antivirals are most effective when they are started within 72 hours after the rash appears.
In some provinces, pharmacists can prescribe antiviral drugs to treat shingles. Talk to your pharmacist to know if it's available in your area and who is eligible for treatment. If that's not an option, your pharmacist will refer you to the appropriate health professional.
If you have a shingles rash on your face or head, you must see a doctor rapidly. It is a serious condition that can cause scarring and blindness if left untreated.
Over-the-counter (OTC) painkillers may be enough for some people, but many people will require prescription medication to relieve the pain. Other OTC products, like colloidal oatmeal baths, may help relieve the itching. Ask your pharmacist to recommend products that are appropriate for you.
CAN YOU PREVENT SHINGLES?
Like with many other conditions, the best option is to avoid it through prevention methods. A vaccine is recommended by Health Canada to prevent shingles. If you're over 50 years old, talk to your doctor or pharmacist about your vaccination options. In many provinces, your pharmacist can not only prescribe but administer the vaccine.
It's important to note that the vaccine doesn't guarantee that you will never have shingles, but it does reduce the risk of complications, such lasting pain, also called post-herpetic neuralgia, if you do get it. You can get the vaccine even if you had shingles in the past.
THINGS TO KEEP IN MIND
There are multiple shingles risk factors
Shingles may be contagious in certain situation
There is no treatment but antiviral medication and over-the-counter medication can help
Prevention is key through vaccination
If you think you have shingles, consult a health professional as soon as possible. The best way to reduce the risk of complications, such as post-herpetic neuralgia, is to begin treatment as early as possible after the onset of the first symptoms. In some provinces, your pharmacist may help. Chat with him/her if you are concerned about shingles, he/she will be happy to answer your questions!
The information contained herein is provided for informational purposes only and is not intended to provide complete information on the subject matter or to replace the advice of a health professional. This information does not constitute medical consultation, diagnosis or opinion and should not be interpreted as such. Please consult your health care provider if you have any questions about your health, medications or treatment.